Two Different Models of the Powerheart AED G3 Elite are Available:
Two AED models are available to you: fully automatic and semi-automatic. The fully automatic model delivers the defibrillation shock with no human intervention. The semi-automatic model requires the rescuer to push a button to deliver the defibrillation shock.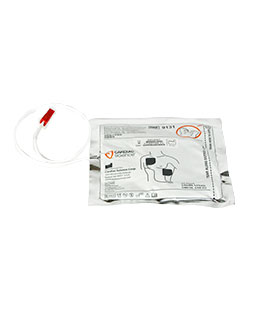 Adult Defibrillation Pads
Part No.:9131-001
These Adult AED Defibrillation Pads are non-polarized so that either pad can be placed in either location, simplifying the rescue. These defibrillation pads can be used with all Powerheart Automated External Defibrillators.
Attachment Method:
Plugs into AED
Color:
White/Silver
For Use With:
All Powerheart AEDs
Notes:
Disposable
Package Contents:
1 pair of defibrillation pads
Packaging:
Pouch
Weight:
0.1 kg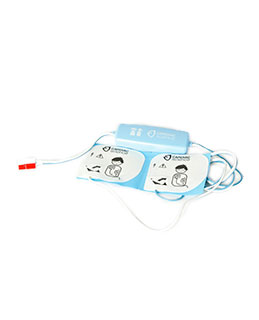 Pediatric Defibrillation Pads
Part No. 9730-002
These reduced-energy child/pediatric defibrillation pads work with all 9300 and 9390 series AEDs, enabling rescuers to provide defibrillation therapy to children who are less than 8-year of age or who weigh less than 25 kg.
Package Contents:
1 pair of defibrillation pads
Packaging:
Pouch inside box
Weight:
0.27 kg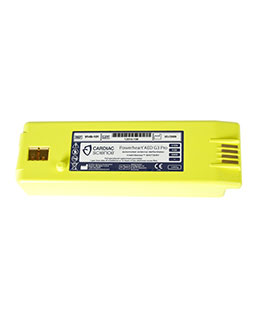 Intellisense Lithium Battery for Powerheart AED G3 Plus
Part No. 9146-302
This intellisense Lithium Battery is for use the Powerheart AED G3 Plus (9390A). The non-rechargeable battery comes with a four-year full-operational replacement warranty.
Notes:
Disposable
Package Contents:
1 battery
Packaging:
Bag
Weight:
0.75 kg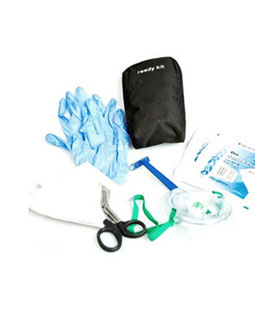 Ready Kit for the Powerheart AED
Part No. 5550-005
This Ready Kit clips onto the carry bad of the Powerhart AED and provides key tools for responding to sudden cardiac arrest. The kit includes: nitrile gloves, razor, scissors, towel, 10cm gauze one-way filter mask, and carabineer attachment.
Size:
21 cm x 11 cm x 5 cm
Weight:
0.18 kg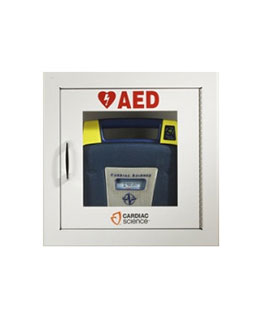 AED Wall Cabinet:Surface Mount with Alarm & Strobe, Security Enabled
Part No. 50-00392-30
This well constructed surface mounted AED wall cabinet comes with an alarm and highly visible strobe light that are triggered when the door is opened – making it widely-known that an emergency is in progress. This alarm can be wired into a building's security system and can be enabled or disabled with a key that is provided. The AED sits inside the white cabinet with a see through door.
Color:
White
For Use With:
All Powerheart AED G3s
Size:
External: 45 cm x 45 cm x 18 cm
Internal: 37 cm x 37 cm x 18 cm
Protrusion from Wall: 18 cm
Weight:
7.21 kg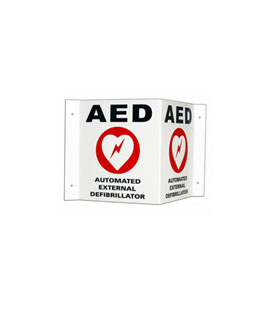 3-D Wall Sign Kit
Part No. 168-6002-001
This 3-D Wall Sign Kit helps ensure that people know where your AED is stored when needed in a sudden cardiac arrest emergency. The kit includes a highly visible 3D sign that projects from the wall, plus two window decals.
Color:
White
For Use With:
All Powerheart and FirstSave 9100 Series, 9200 Series and 9300 Series AEDs
Notes:
Reusable
Package Contents:
1 3-D Wall sign, 2 window decals
Packaging:
Bag
Weight:
0.18 kg